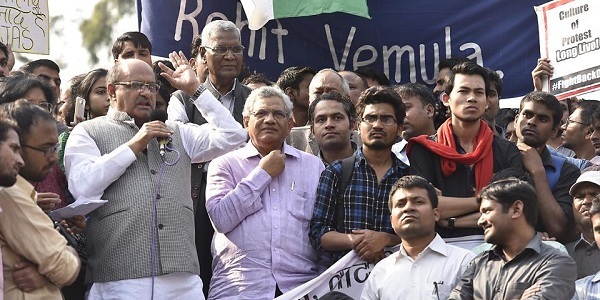 New Delhi: A large number of students on Tuesday held a protest march in Delhi University against last week's violence at Ramjas college. The students from DU, JNU, Jamia and Ambedkar Universities and faculty members joined the march and raised slogans against the ABVP accusing it of being responsible for the violence.
Later, CPI(M) General Secretary Sitaram Yechury, D Raja of CPI and K C Tyagi of JD(U) also participated in the march.The Student wing of Congress also went on a day long hunger strike in the University campus to protest against the violence at the college.
Meanwhile, ABVP blamed the Left backed student groups for vandalism in the campus saying they are spreading anti-national propaganda in the University. It alleged that some miscreants want to spoil academic atmosphere.
On the other hand, Delhi Chief Minister Arvind Kejriwal accused the BJP of playing politics through violent means in the campus. He also met Lieutenant Governor Anil Baijal to demand strict action against those behind the incident.
Countering the opposition charges, Union Minister Ravi Shankar Prasad accused them of politicizing the issue. He asserted that freedom of speech is respectable but anti- national activities will not be allowed. Information and Broadcasting Minister M Venkaiah Naidu also condemned all kinds of violence.
The Delhi Police has said, the process to identify the persons who abused the Delhi University girl student on social media is currently on. Briefing reporters, Joint Commissioner of Police Dependra Pathak said, the police has registered an FIR in connection with the rape threat to the girl student.Meanwhile,National Human Rights Commission, NHRC, has issued notice to the Delhi Police Commissioner over allegations of police excesses outside Ramjas College. The Commission has given him four weeks to submit a detailed report in the matter. It issued the notice on a complaint that police personnel attacked a female student and snatched cameras from media persons who were recording the incident outside Ramjas College.