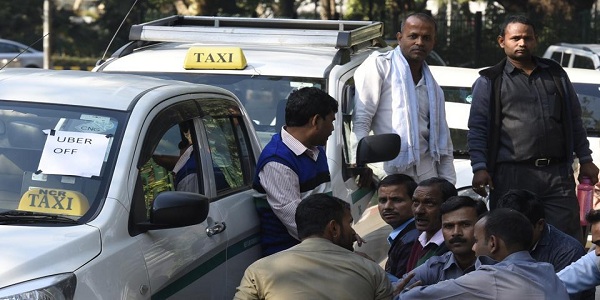 New Delhi: Taking serious notes of the seventh consecutive day of strike from Ola-Uber cab service, the Delhi government is likely to hold talks with representatives of drivers working with Ola and Uber –the app-based cab aggregators in a bid to persuade them to return to work.
However, this meeting does not give assurance of their resuming to work in Delhi and National Capital Region (NCR) as leaders of the drivers' union have told their strike will not come to an end until all their issues are resolved.
Ravi Rathore, vice-president of Sarvodaya Driver Association of Delhi (SDAD), said, "Two representatives from Delhi government approached us and have fixed a meeting with government officials on Thursday."
SDAD claims to represent approximately 1.5 lakhs drivers who are working with Ola and Uber, in Delhi/NCR. The drivers have called the strike against the low fares and lack of basic facilities provided by app-based taxi aggregators.
Commuters are facing a great difficulty in hiring cabs since February 10 as thousands of Delhi/NCR drivers are on strike demanding hike in fares from the current Rs.6/km and to put an end to the 25% commission, the app-based aggregators charge on every booking.
The strike situation could have been worse but, the Yellow-Black taxi and a section of auto-rickshaw unions pulled out of the strike on Sunday after a meeting with transport minister Satyendra Jain.
The strike turned violent late on Tuesday night when Rahul Kumar's cab was set ablaze by some unidentified protesting drivers in Green Valley in Indirapuram, Ghaziabad.
"There were nearly 15-20 protesting drivers who were hanging around on bikes. They threw stones and I had to stop before they poured inflammable substance and set my car on fire. They took away one mobile while two mobile got burnt inside the car. I have been driving for Uber for past 3-4 months," Rahul said.
It is not only the commuters who have been facing the problem over the past one week but also the drivers who opted not to participate in the strike and chose to continue with the work, are also harassed by the drivers on strike. The drivers who tried resuming work in Delhi alleged that they were physically assaulted and their cabs vandalized on Wednesday. Though, no police complaints were made by any of these drivers.
The Government, after a meeting with representatives of Rajdhani Tourist Driver Union and the managements of Ola and Uber said, "It was certainly conveyed to the companies to look into the issues faced by drivers since majority of the drivers are not in favor of any strike but some external anti-social elements are illegally preventing the app-based drivers from plying their vehicles".
According to the sources, the striking drivers want better wages; unlimited hours to meet the targets set the employers, accidental cover and a hike in the minimum charge of Rs 6 /km, which both Ola and Uber charge currently to Rs 21/Km as regulated by the Government. The drivers also want both Ola and Uber to stop further adding new cars and end the services for sharing- rides.
The drivers claim that their profits have severely reduced in recent past as the employers go on to acquiring more cabs. The drivers are demanding that new registrations be stopped as they are finding it hard to create any meaningful business.
"Initially when they started, they offered us good incentives, everyone was eager to come on board. But, now they have stopped incentives. They have changed their policies and schemes, this is hurting us badly. The loans we have taken, the installments we are bearing for the cars, are giving us sleepless nights. We are not able to make the ends meet." Said Sanjeev, a driver with Uber
It is presumed that cab fares may get dearer as an outcome of this strike since there will be reduced incentives due to high number of drivers and people making switch in career. Also, despite the regular strikes, the companies are avoiding a major hike in prices for the rider. The basic fare still ranges around Rs 6 to Rs 8 per km. Since incentives are no longer that appealing, the drivers are demanding for the rise in fares. If the strike continues, the companies will be left with no other option but to increase the ride- fares.
It is not for the first time that the drivers of these app-based agencies have come on road to protest. This protest comes weeks after drivers belonging to Uber and Ola staged similar strikes in Bangalore and Hyderabad on the same demands – better incentives and more bookings.
In November 2016, drivers of Ola and Uber staged a 36-hour-long strike in Guwahati too , to protest against falling incomes. Approximately 12,000 cabs were off the road in the city during the protest.
On December 28 2016, drivers of cab-hailing companies staged a protest at the Kempegowda International Airport in Bangalore against the flat rates charged by these companies.
In July last year, a group of Ola drivers in Mysore called for a three-day-long strike against alleged exploitation by the firm and drivers in Kochi planned an indefinite strike demanding revision of wages and employment guarantee.
There were also reports of drivers in Delhi-NCR protesting against non-payment of incentives and other expenses by Ola and Uber.